NCC
Students from XI & XII are given the opportunity for enrolment in National cadet corps. Ncc helps in inculcating a sense of discipline in the children. It also helps in inculcating a sense of discipline in the children.it also helps in exposing the school children to the outside world by making them attend various NCC camps and other adventurous activities, not only in our state but also in other parts of the country. Ncc provides a platform to the children to showcase their talent on a national platform through Republic Day Camps, ThalSainik Camps, National Integration Camps organized in different states of our country.

Students are encouraged to take B & C certificate examinations of NCC, which, other than adding to their qualification have lot of career benefits also.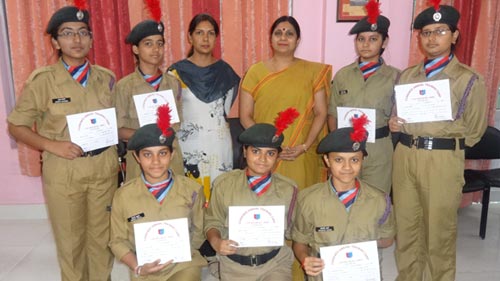 Uses of NCC Certificates
Permanent Commission:
A permanent Commission means a career in the Army till you retire. For a Permanent Commission, you have to join the National defence Academy (NDA) Or the Indian Military Academy (IMA).
Short Service Commission
The Indian Army has a wonderful alternative career for all those of you who aspire to serve the Nation for a few years. It is called Short service Commission. It gives you the option of joining the Army and serving in it as an Officer for Five years.

The best part is that once your initial five year tenure is over, you are allowed to opt for a Permanent Commission. Alternatively, you can also choose for a Five year extension and can also choose to resign from your post anytime during this extended period. With Short Service Commission, you can have the best of both worlds. Even as it gives the previlages and benefits of a full fledged Commission, you will be imbibing qualities that will make you an invaluable asset to any organisation that you join after the Army tenure. The Army will train you to become a Good Leader and also a Successful Manager.
Benefits extended by various Security and other agencies to holders of NCC Certificate holders are given in the following paragraphs.